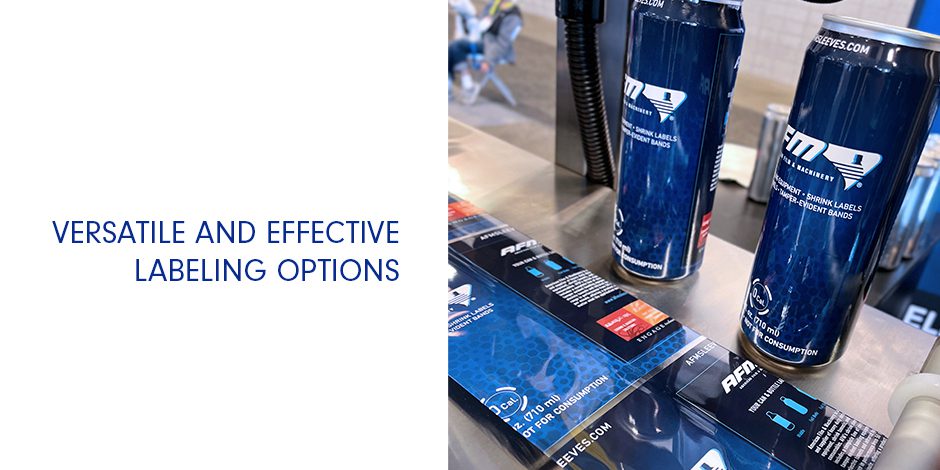 Container Shapes and Shrink Sleeve Labels
As you may have read in our previous blog posts, shrink sleeve labels are an ideal way to get your products noticed. With 360 degrees of design space, shrink sleeves can make your product jump from the shelf. Along with utilizing the surface area of a container with a unique design, manufacturers may also introduce an unusually shaped container for their product. This blog discusses factors to consider when shrink sleeving your products in a unique container and how to ensure your product gets a clean finish.
Be Sure to Consider This
What type of shrink sleeve label are you looking to apply? There are several types of shrink sleeve labels: full-body, full-body with tamper-evident cap, middle sleeve, shoulder sleeve, and multi-pack. Full-body shrink sleeves cover the entire container to create a 360-degree design from top to bottom. These sleeves can be used for a single container or products in multi-packs.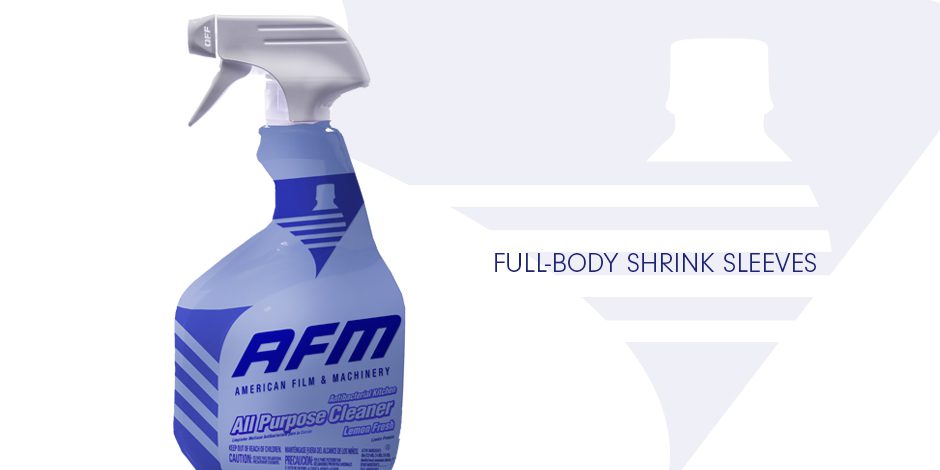 A multi-pack is when multiple containers (products) are packaged using a larger shrink sleeve. This type of packaging is often used when packaging products to sell excess inventory, offering a two-for-one sale, or adding a new sample to an existing product.
It's important to note that not all containers are ideal for traditional pressure-sensitive labeling. For example, containers with extreme curves or sharp angles may make it difficult for adhesive labels to conform properly, resulting in wrinkles or bubbles in the label. Additionally, the size and shape of the container must be considered to ensure that the labels fit properly and provide adequate coverage.
.
Unique Container Shapes
Shrink sleeve labels, on the other hand, are an ideal choice for curved containers, as they can conform to the shape of the container and create a seamless label that covers the entire surface area. First, they provide complete coverage of the container surface, making it possible to incorporate high-quality graphics, images, and text. The shape of the container and the label design can work together to enhance the product's shelf appeal. In addition, the elasticity of the plastic material used in shrink sleeves allows it to stretch and contract, which allows the label to fit tightly around the curves and contours of the container.
Before a shrink sleeve label is applied to a curved container, it is first printed onto rolls of flat plastic film. The film is then cut into an individual label and placed over the container, often with the help of a shrink sleeve applicator like AFM's LX-150. Finally, heat is applied to the label, causing it to conform to the shape of the container.
AFM's WSN-GEN S steam tunnel is a great tunnel to shrink uniquely shaped containers. Steam heat fully surrounds the product and is ideal for irregular shaped containers. The GEN S directs steam heat where needed to produce a precise, high-quality finished appearance of PVC, PETG, OPS, PLA labels, and neck bands. The result is a label that fits snugly and smoothly without wrinkles or creases.
As you can see, shrink-sleeve labels are a versatile and effective labeling option for a variety of container shapes, offering complete coverage, durability, and design possibilities. In addition, because of their ability to conform to the shape of the container, shrink-sleeve labels are ideal for use on unusually shaped containers, such as those with curves or contours that make it difficult to apply traditional labels.
For more information on shrink sleeves and the equipment used to apply the labels, visit the equipment section of our website and view AFM's full line of sleeving solutions. Do you still have questions about the process of sleeving a product? AFM's knowledgeable team of district managers are here to answer your call.