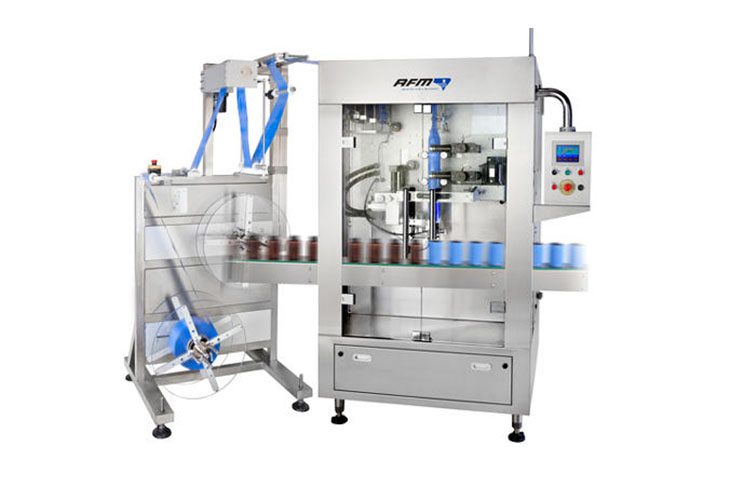 High Performance Shrink Sleeve Labeling Equipment From American Film & Machinery
September 28, 2015, Brooklyn Park, MN – American Film and Machinery, a leading manufacturer of shrink sleeve and label solutions, introduces the LX-350 high performance shrink sleeve label applicator. The LX-350 is designed for high volume production rates and is a perfect solution for industries including food and beverage, pharmaceutical, nutraceutical, health and beauty, consumer goods, chemical, and other manufactured goods.
LX-350 is an in-line single-head mandrel style labeling system designed and engineered to meet the demands of your workflow. The LX-350 can accommodate any conveyor while the machine's sturdy design and construction provides 24 hour operation. The innovative standard dual unwind system allows users to maximize production with only a brief splicing stop. Product runs are programmed with the user-friendly touch-screen control panel HMI, featuring standard and custom menus that can be password protected for an added layer of security.
Every LX Series machine is designed with servo driven, PLC controlled label drive rollers, cutter assembly, and label shooting wheels to provide accurate and consistent shrink sleeve labeling. LX-350 is constructed using 304 grade stainless steel to provide strength and reduce vibration while offering quiet operation. LX-350 has been engineered to handle oval and round containers made of plastic, glass, or metal at speeds of up to 500cpm. Users also have the option of purchasing additional mandrels for non-cylindrical containers. The multiple blade rotational cutting mechanism provides extremely smooth, even cutting of film ranging from 35 microns up to 70 microns.
Size change overs are simple and quick. The cut length can be changed electronically by utilizing the control panels' touch screen interface. For different product diameters, a new timing screw and bullet (mandrel) can be installed in minutes, while different product heights are accommodated by raising or lowering the machine with a turn-screw mechanism. The LX-350 comes with our quick change system for switching mandrels with a turn of a knob. Along with the mandrel, the cutter assembly has only two levers to turn, keeping your downtime to a minimum.
The LX-350 is available now through AFM's worldwide network of authorized distributors. Sales inquiries should be directed to Joshua Nelson, AFM, 1521A Pomona Road, Corona, CA. 1-800-877-5658. jnelson@engagetechnologies.net
AFM operates as a division of Engage Technologies Corporation, parent company of Squid Ink, Eastey Enterprises, AFM, and Cogent Technologies. Squid Ink (www.squidink.com) is a leading manufacturer of superior quality inks and ink jet printing equipment. Eastey (www.eastey.com) is a leading manufacturer of heavy-duty shrink packaging equipment and case sealing systems for packaging applications. Cogent Technologies (www.cogent-tech.com) manufactures infrared drying systems used to dry ink in the industrial and graphics industries.
For press information, please contact:
Joshua Nelson
American Film & Machinery
(763) 795-8856, ext. 1735
jnelson@engagetechnologies.net
Photos available via e-mail – please e-mail jnelson@engagetechnologies.net for details.