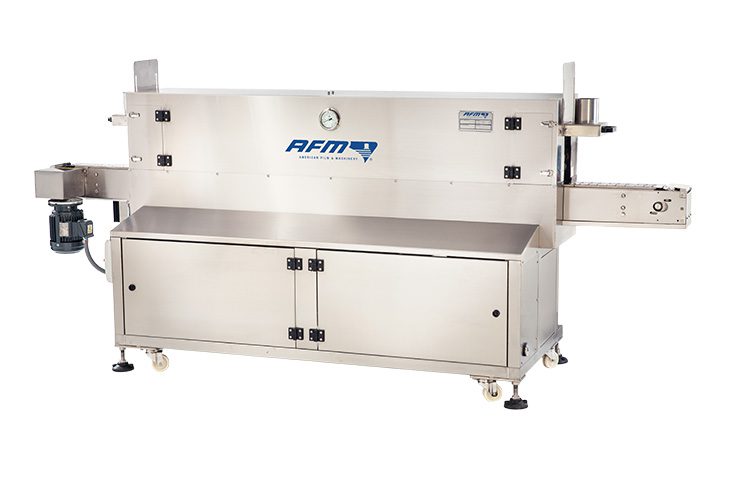 All-In-One Steam Tunnel From American Film & Machinery
September 21, 2017, Brooklyn Park, MN – American Film and Machinery, formerly NAFM, a leading manufacturer of shrink sleeve and label solutions, introduces the WSN-Gen S Steam Heat Tunnel. The WSN-Gen S is is an all-in-one tunnel that includes its own steam generator. The tunnel is a perfect addition to shrink labeling lines in manufacturing goods industries, including food and beverage, pharmaceutical, nutraceutical, health and beauty, consumer goods, and chemical products.
The WSN-GEN S is designed for simple setup where in-plant steam generation isn't readily available. Equipped with two adjustable tier manifolds, the The GEN S directs the steam heat where needed to produce a precise, high quality finished appearance of PVC, PETG, OPS, and PLA labels and neck bands. The GEN S provides better contour than radiant heat and ensures a quality finish regardless of container size or shape.
The GEN S tunnel utilizes a 9" tall and 4" wide opening to accommodate a number of shrink sleeve products. The tunnel has a maximum temperature of 212°F and features high quality steam heating elements and an adjustable manifold for uniform heat distribution. Changing containers or labels isn't an issue – tier adjustments and controls are done from the operator side of the tunnel, making adjustments safe, quick and easy.
The WSN-GEN S tunnels are available now through AFM's worldwide network of authorized distributors. Sales inquiries should be directed to Joshua Nelson, AFM, 1521A Pomona Road, Corona, CA. 1-800-877-5658. jnelson@engagetechnologies.net
AFM operates as a division of Engage Technologies Corporation, parent company of Squid Ink, Eastey Enterprises, AFM, and Cogent Technologies. Squid Ink (www.squidink.com) is a leading manufacturer of superior quality inks and ink jet printing equipment. Eastey (www.eastey.com) is a leading manufacturer of heavy-duty shrink packaging equipment and case sealing systems for packaging applications. Cogent Technologies (www.cogent-tech.com) manufactures infrared drying systems used to dry ink in the industrial and graphics industries.
For press information, please contact:
Joshua Nelson
American Film & Machinery
(763) 795-8856, ext. 1735
jnelson@engagetechnologies.net
Photos available via e-mail – please e-mail jnelson@engagetechnologies.net for details.